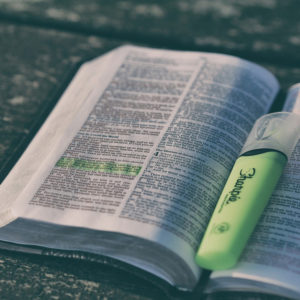 i taught a teenage and early high school-aged Sunday school class for years. from time to time, we would have a visitor or someone unfamiliar with the Apostolic doctrine. in these cases, i would always cover fundamental salvation doctrine before the end of class time. this material gave the individual something to think about, perhaps motivating them to seek more information, and provided a covering for my class in judgment as having shared the Truth. the following is a quick and concise Bible study that can be used to share the gospel in a short amount of time. the condensed style is perfect for a brief yet intrigued encounters. a deeper study should follow as God opens His word to you and those you are sharing with.
the traditions of man, what has been passed down to them, and what they have been taught can be a good thing, but some practices are born of convenience and not necessarily as they were originally intended. Jesus said, "Making the word of God of none effect through your tradition" (Mark 7:13a, KJV, Tyndale 1987). the Bible is our guide; it is the love story between God and humanity. Deuteronomy 4:2 declares, "Ye shall not add unto the word which I command you, neither shall ye diminish ought from it, that ye may keep the commandments of the Lord your God which I command you." the Bible also reads, "All scripture is given by inspiration of God, and is profitable for doctrine, for reproof, for correction, for instruction in righteousness:" (2 Timothy 3:16). the entire Bible is "profitable" for you. when we choose which scriptures we want to follow, we are not using the Bible as originally intended.
so how do we use the Bible and its words of eternal life when considering salvation? Philippians 2:12 states, "work out your own salvation with fear and trembling." the author wants us to take it seriously; the details of your salvation are a life and death matter! Nicodemus met with Jesus in John chapter 3 where Jesus explained, "Except a man be born of water and of the Spirit, he cannot enter into the kingdom of God. That which is born of the flesh is flesh; and that which is born of the Spirit is spirit" (John 3:5-6). the Kingdom that Jesus came to establish is a Spiritual Kingdom! being born of the water references baptism, and when God's Spirit lives in you, you are born of the Spirit!
one day, while speaking with His disciples, Jesus asked, "Who do you say that I am?" (Matt 16:15) Peter answered, "Thou art the Christ, the Son of the living God" (Matthew 16:16). Jesus replied, "Blessed art thou: for flesh and blood hath not revealed it unto thee, but my Father which is in heaven. And I will give unto thee the keys of the kingdom of heaven:" (Matthew 16:17, 19). Peter took the keys and unlocked the salvation plan in Acts 2:38-41, "Then Peter said unto them, Repent, and be baptized every one of you in the name of Jesus Christ for the remission of sins, and ye shall receive the gift of the Holy Ghost. For the promise is unto you, and to your children, and to all that are afar off, even as many as the Lord our God shall call. And with many other words did he testify and exhort, saying, Save yourselves from this untoward generation. Then they that gladly received his word were baptized:"
the Bible's path to being saved includes repentance, baptism in Jesus' name, and infilling of the gift of the Holy Ghost. repentance is asking God for forgiveness; it is dying to the old, sinful person. when we ask God for forgiveness, He forgives us! we hold on to guilt and grudges, but God forgets everything we have done wrong. true repentance is asking for forgiveness, putting our very best effort toward not doing those things again, and reaching forward toward God's perfect will in our life. baptism washes away our sins forever and the sin curse that everyone is born with. just like Jesus was buried in a tomb, we are buried in a watery grave and emerge to new life. God's gift for obedience to His word is the Holy Ghost or Holy Spirit. when we take the first steps on our own, God fills us with His Spirit to help us continue the Christian journey in this world. "So then they that are in the flesh cannot please God. But ye are not in the flesh, but in the Spirit, if so be that the Spirit of God dwell in you. Now if any man have not the Spirit of Christ, he is none of his. And if Christ be in you, the body is dead because of sin; but the Spirit is life because of righteousness. But if the Spirit of him that raised up Jesus from the dead dwell in you, he that raised up Christ from the dead shall also quicken your mortal bodies by his Spirit that dwelleth in you" (Romans 8:8-11). through the death, burial, and resurrection of Jesus, the salvation plan brings us to be born of the water and Spirit, and thereby, able to enter into the kingdom of God.
you may have been baptized before, and that's great! in working out your salvation, make sure to follow the Bible instructions without diminishing from it. Jesus said, "I am come in my Father's name" (John 5:43). He said, "I and my Father are one" (John 10:30) and "he that hath seen me hath seen the Father" (John 14:9). Paul wrote, "For in him dwelleth all the fulness of the Godhead bodily" (Colossians 2:9). 2 Corinthians 5:19 says, "To wit, that God was in Christ, reconciling the world unto himself." God Himself robed in flesh, through His great love for us, knew no sin and became the perfect sacrifice for our sins for all time! "Neither is there salvation in any other: for there is none other name under heaven given among men, whereby we must be saved" (Acts 4:12). Jesus said, "All power is given unto me in heaven and in earth" (Matthew 28:18). the power to save a soul is given to Jesus, and when we invoke His name when we're immersed in baptism, we ensure that we are following the Bible and not merely a tradition of man.
Peter continues to teach us, "Wherefore gird up the loins of your mind, be sober, and hope to the end for the grace that is to be brought unto you at the revelation of Jesus Christ; As obedient children, not fashioning yourselves according to the former lusts in your ignorance: But as he which hath called you is holy, so be ye holy in all manner of conversation; Because it is written, Be ye holy; for I am holy" (1 Peter 1:13-16). when we follow the Bible's path of salvation, we continue to try our very best at living the way that would be pleasing to God. John writes, "My little children, these things write I unto you, that ye sin not. And if any man sin, we have an advocate with the Father, Jesus Christ the righteous:" (1 John 2:1). Paul said, "I die daily" (1 Corinthians 15:31), a continual dying out, through repentance, to the things of things world. do not be discouraged; even a baby step in the direction of Christ is positive ground in the battle for your soul!
in conclusion, practice the essential elements of Christianity that will help you continue on the pathway of the blessed (Daniel Stroebel, The Pathway of the Blessed, https://subspla.sh/99nr4v4, February 20, 2022). these principles include attending church services, reading your Bible, and praying. continued study of the scriptures is essential to understanding God, and the church's teaching will help facilitate your growth. this link will help you find a home church if you are just visiting the area, https://www.upci.org/resources/locate-a-church. your prayers do not have to be long or eloquent, but be sure to pray every day. i pray for your continual success in Jesus, that His "word is a lamp unto [your] feet, and a light unto [your] path" (Psalm 119:105). please let me know if you have any questions or if i can assist you on your journey. i bless you in Jesus' name!