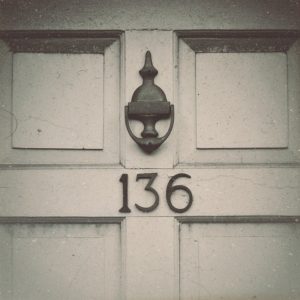 i recently received a letter in the mail from a return address that included the name "Julie." this envelope and message were hand-written in cursive with beautiful penmanship. it is rare to see handwriting on an envelope among advertisements and credit card applications these days. i was intrigued. i made my way up the driveway and into the house, this correspondence was the first letter i opened that day, and i want to share it with you.
"Dear Neighbor,
Hello my name is Julie. I hope this letter finds you well. I'm writing to you because I'm a student of the Bible. I was wondering have you ever wondered what is the Kingdom of God?
In the Bible at Isaiah 48:17, 18 this is a righteous government that can benefit you personally. You can read this in your own personal Bible. You can live in perfect health and happiness in this righteous government. That would be wonderful compared to the environment we live in today.
As the future ruler of God's Kingdom, Jesus provided a beautiful preview of what that Kingdom will do for it's subjects. You can read this at Revelation 11:15.
I would like to leave you with a question. What will life be like under the rule of God's Kingdom. I hope to hear from you soon.
Sincerely,
Julie"
i have taken the time to research the return address on the envelope because i had my suspicions about where this letter had originated. my deductions as to the source were derived from the track and information that accompanied the letter. it was a lovely note, and i thought a response would be appropriate. the location provided led to a central location and not a residence, so i am not very confident that Julie would get my reply. instead, i will respond to the letter and the delivery method in this format.
we have all had people come to our door to witness of the Kingdom of God. when i am not consumed with completing my "honey-do" list, i will take the time to talk with my visitors and discuss what the Bible says about Heaven and salvation. these meetings usually end in both parties agreeing to disagree and going on with their day. if you talk with them, they will return. should you apologize for being too busy, they do not come back, in my experience.
receiving a letter from this group is new to me. perhaps it is a way to get the word out without contacting people during a pandemic. i have changed addresses in the last few years and moved further out into the country. maybe they do not venture out too far from town for safety reasons. sending letters may not be as cost-effective and are only sent every so many years, or it is a new practice.
there was a reference made to Isaiah 48:17-18, "Thus saith the Lord, thy Redeemer, the Holy One of Israel; I am the Lord thy God which teacheth thee to profit, which leadeth thee by the way that thou shouldest go. O that thou hadst hearkened to my commandments! then had thy peace been as a river, and thy righteousness as the waves of the sea:" (KJV, Tyndale 1987). commentaries on these verses agree that it is personally beneficial to follow the teachings of the Lord, as written in verse 17. the Redeemer leads to imperishable gain as compared to Matthew 16:26, "For what is a man profited, if he shall gain the whole world, and lose his own soul? or what shall a man give in exchange for his soul?" Ellicott's also mentions the one right way, "Jesus saith unto him, I am the way, the truth, and the life: no man cometh unto the Father, but by me" (John 14:6). this quote responded to Thomas' question, "how can we know the way?" also, 2 Timothy 3:16 declares that ALL scripture is profitable.
verse 18 of Isaiah 48 exclaims a desire that people would listen to the commands of God with the promise of peace. this verse is comparable to Psalms 81:13-16, "Oh that my people had hearkened unto me, and Israel had walked in my ways! I should soon have subdued their enemies and turned my hand against their adversaries. The haters of the Lord should have submitted themselves unto him: but their time should have endured for ever. He should have fed them also with the finest of the wheat: and with honey out of the rock should I have satisfied thee." history tells us that these statements were made in the face of a nation that had not followed the teachings of the Lord and was in constant conflict with enemies and God.
the letter also references Revelation 11:15, "And the seventh angel sounded; and there were great voices in heaven, saying, The kingdoms of this world are become the kingdoms of our Lord, and of his Christ; and he shall reign for ever and ever." again, referring to Ellicott's Commentary, the "kingdoms of this world" are a direct reference to the temptation of Christ in Matthew chapter 4. satan was willing to surrender the kingdoms of this world if Jesus would bow to him. Revelation 11:15 decrees the final victory over satan, stripped of his domains and the absolute sovereignty of the Lord.
during our visits, they use Revelation to describe this world, the domination of God over it, and the faithful being installed as rulers over this planet. here is where my thinking differs. i have already mentioned John 14, but in verse 2, Jesus says, "I go to prepare a place for you. And if I go and prepare a place for you, I will come again, and receive you unto myself; that where I am, there ye may be also" (John 14:2b-3). He was on this earth and said, "I go." the place He is preparing for us is not here. He is coming back to get us but to bring us to "the city where the Lamb is the Light." a city which hath foundations, whose builder and maker is God (Hebrews 11:10). A city that has twelve foundations, and in them the names of the twelve apostles of the Lamb (Revelation 21:14).
all scripture is given of inspiration and profitable, and Heaven is prepared for us upon foundations with the names of the twelve apostles. we have already established that Jesus is the way to this place that He is preparing. would you agree that these facts come from the scriptures? if so, you would have to agree it is beneficial to follow the Lord's teachings and follow the way that He commands, as stated in Isaiah 48. Jesus taught and empowered His disciples to "be witnesses unto me both in Jerusalem, and in all Judaea, and in Samaria, and unto the uttermost part of the earth" (Acts 1:8). in the following chapter, when the people had realized the severity of the situation, they asked, "what shall we do?" (Acts 2:37) Peter instructed them on the new birth salvation, and "they that gladly received his word were baptized: and the same day there were added unto them about three thousand souls" (Acts 2:41). obviously, God approved of this message, and Kingdom expanded to accommodate these souls on that day. had the Lord not approved, we would be reading another, "O, if you had only listened to me" verse to conclude this chapter. the result, instead, was the birth of the New Testament church with proselytes baptized into Jesus and regenerative power permeating their very beings for the purpose of disciple-making!
i agree with the principle of witnessing, but i choose not to argue with people over their beliefs. i encourage people to seek out their salvation and take it seriously. if i had written back to the address that Julie provided, i assume it would go to a veteran of this particular doctrine, well stooped in the thralls of tradition and counsels. i choose to study the Bible, consider the context and apply the Words of eternal life. we may agree to disagree, but there is no arguing with the teachings and commands of the Lord. either way, I bless you in Jesus' name!