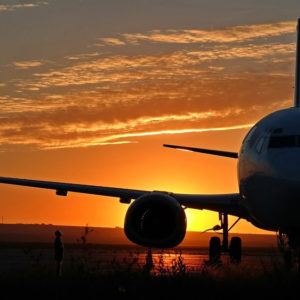 i currently work at an airport, and if you have the opportunity to observe a flight line, you may notice an individual giving direction to the pilots. they relay orders through hand signals and gestures. this occupation might be a predominantly military position, but i have observed similar ground crew at commercial airports, usually with signaling flashlights. these men and women hold the title of Plane Captain.
i am not referring to the flight captain or lead pilot of an aircraft. the plane captains, to which i refer, rarely leave the ground. according to wearethemighty.com (Navy plane captains get jets flying to the danger zone, Harold C. Hutchison, Sept 12, 2019), plane captains have many responsibilities. "A plane captain has to make sure the canopy is spotless. They make sure the plane is fit to fly by performing daily checks and additional checks before and after each flight. They look for cracks, missing fasteners, emergency oxygen levels, and canopy cleanliness. One mishap could cost lives and damaged equipment. The plane captain, like the pilots, gets their name on the side of the jet." the plane captain is usually the pilots' last person before heading out to their mission and the first person they see upon return.
we have all seen the bumper stickers that read, "Jesus is my co-pilot," and i have heard the rebuttal that He should be the pilot! for this analogy, i cannot choose if we are the plane captain or the aircraft itself, maybe a little of both. if Jesus is our pilot, taking control of our lives for His Kingdom's purpose, we must adopt the detailed-oriented practices of the plane captain. to claim ownership of this Christian life (aircraft), we assume the overall responsibility for the current condition and any problems that may arise due to sloppy maintenance.
we must ensure that our canopy is spotless so that our vision is clear. obstacles fly by too quickly to have an obstructed view. daily (on schedule, without fail), we should check our spiritual condition before taking flight for the day. exceptional circumstances may require additional procedures, for example, fasting, interceding, and extra study of the Word. let us examine ourselves for cracks in our hull that may lead to changes in pressure. look for missing fasteners that hold everything together in times of intensity. check your Holy Ghost levels along with the overall cleanliness, or holiness, of our lives. if you are unsure of the condition of your vehicle, it is not a foul to call in an assist to help inspect from a pastor or trusted mentor. after all, most people never walk away from a crash. it is better to ensure ultimate operability before taking flight.
with our checks complete, we can safely and effectively perform our mission to the best of our ability. the crew has the best chance of survivability and success because of your pre-flight due diligence. when we return and start to shut things down for the night, it is to our advantage to inspect the wear that the day has brought to us and plan for tomorrow. you may have to concentrate on one area the next day, but the goal is to maintain ourselves at optimum readiness for whatever lies ahead.
plane captain, aircraft, or a little of both; i will let you decide. assuming this responsibility can mean life or death, but your name gets to be on the plane next to the pilot. should you choose the mantel of "Christian," you become a joint heir with Christ (Romans 8:17). He fights the battle and destroys the conflict, but your preparation has allowed Him to operate in today's situation. Jesus does not need your help, but He wants to be the One to paint your name alongside His. the camaraderie of the King is the most satisfying endeavor that you will ever undertake.