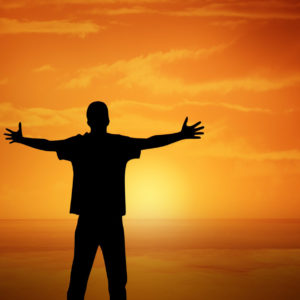 We can interpret touch in various ways, so I want to start with a basic definition for this study. The verb form of the word can mean "come into or be in contact with," "have an effect on; make a difference to," and "produce feelings of affection, gratitude, or sympathy in." There is also a noun form of the word touched, meaning "an act of touching someone or something" (Google definitions, https://www.google.com/search?q=touch+definition). Keeping these definitions in mind, I want to explore various scriptures and come to a small, but in no way comprehensive, conclusion on the need and purpose for receiving a touch of the Kingdom.
Everyone that attends church or has experience with church has heard of getting a touch from God or having God touch a need. I have heard people pray and ask God to touch a person. What does that mean? In our society, touch may come with a negative connotation, but isolation may quicken feelings of depression, anxiety, or loneliness to the hurting individual. The Urban Child Institute remarked, "Similar to other sensory deprivation, the lack of touch during the early years slows growth in infants. In fact, infants who experience more physical contact with caregivers demonstrate increased mental development in the first six months of life compared to young children who receive limited physical interaction.1 Touch deprivation is additionally associated with increased aggression, pointing to the emotional and behavioral impact of contact during early childhood.3" (Enhancing Development Through the Sense of Touch, http://www.urbanchildinstitute.org/articles/research-to-policy/research/enhancing-development-through-the-sense-of-touch, May 2012). On a Spiritual level, could the amount of interaction between a Spiritual infant and their heavenly Father impact Christian development?
"In a human sense, some of us have been touched by hearing a Beethoven symphony; others have been enthralled by viewing the majesty of the Grand Canyon; perhaps many have had their routine moments enlightened by the sweet smile of a child. True communication is necessarily mental, always going on in the one mind. Ideas which issue forth from divine mind are ever present and available for each of us to receive and share. Deity expresses Himself through the touch of gentleness, grace, humility, affection, qualities of Spirit, Love. Whenever these spiritual qualities are in evidence, human consciousness is reached and redeemed as surely today as it was in the Master's time" (William C. Breen, The Spiritual Touch, The Christian Science Sentinel, https://sentinel.christianscience.com/shared/view/1wmnr6ab814, July 1967). The heart of the matter is this; there is contact made in the physical, and there is contact made in the Spiritual. When speaking of an inward touch from the Master, we can lean toward the definitions of "have an effect on; make a difference to" and "produce feelings of affection, gratitude, or sympathy in."
We read in the Gospels of Jesus coming into contact with many people. "Jesus stretching forth His hand to the leper, touched him, saying, I will; be thou cleansed. And straightway his leprosy was cleansed" (Matt. 8:3). "Jesus saw Peter's wife's mother afflicted with a fever. And He touched her hand, and the fever left her" (Matt. 8:14, 15). "Jesus touched the eyes of the blind, and their eyes were opened" (Matt. 9:29, 30). "Jesus touched the ear of the deaf man and healed him" (Luke 22:51). There were also those that would proactively touch Jesus before He could get to them, and they received their healing (Mark 6:56, Matt. 14:36, and Luke 8:44-48). Jesus also gathered up little children, laid His hands upon them, and blessed them (Mark 10:13, 16). There is an inward bond to Christ that is based on feeling and mindset, but through Christ's example, we can see a combination of the eternal Spiritual person and the created outward man. Jesus was all God and yet all man; He made people think and changed their perceptions and attitudes, but He also physically touched them for healing and to bless.
We read the apostles' accounts, continuing to pray for peoples' infirmities using touch and sometimes anointing with oil. Sometimes a "touch" from their shadow was enough to restore health and strength to a person Divinely. In Acts 19:6, we read, "And when Paul had laid his hands upon them, the Holy Ghost came on them; and they spake with tongues, and prophesied" (KJV, Tyndale 1987). The greatest miracle, receiving God's Spirit, has come through faith, prayer, and laying on of hands. Is this necessary to receive the Spirit? Many of those have received without someone praying with them, but I present that the number of those that did have someone praying with them far exceeds those that didn't. "For where two or three are gathered together in my name, there am I in the midst of them" (Matthew 18:20).
We can conclude that there are Biblical accounts of a physical touch that achieves a purpose. "Is any sick among you? let him call for the elders of the church; and let them pray over him, anointing him with oil in the name of the Lord" (James 5:14). The necessity of that touch is not clear. I think emotionally-charged back rubs and breaking someone's neck during prayer can be considered distracting. My approach would tend to lean toward "less is more." In some way, there may be a connection between the born and born again that works within the local assembly to enhance an altar experience. I can say that the inward touch of "gentleness, grace, humility, affection, qualities of Spirit, Love" is real and at work in the Body of Christ today. I can best describe this experience as if Jesus came to where you are and gave you a big hug. Maybe you are not a hug person, but that should not deter you from seeking and praying until you get a "touch" from the Lover of your soul!