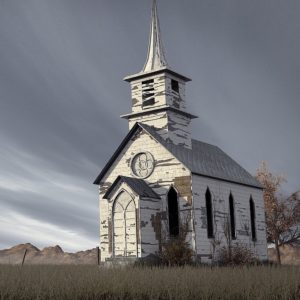 This portion of the series is about church attendance, probably the very last place you want to be right now! Perhaps you skip more services than you need to. Maybe you come to church to show your face but wonder when the service will end. There's no way you will be able to worship with that other person over there acting like they didn't offend you (they might not know that they have). The answer is simple; if you want to get better, go to church.
You never quit church alone. If you fail to attend services, it will affect your spouse, children, and those closest to you. Someone else in the congregation may also be struggling and seeing you may offer encouragement. If you decide to worship from home, are you going to put forth the effort you would in the assembly? Chores and distractions will take precedence, and the things of God get placed on the back burner and then forgotten altogether.
Remember why you are there, not for anyone in particular, but to worship the Savior! Where two or three agree on any one thing, Jesus is in the midst of them; I am sure you can find one other person with a sincere desire to worship the King! It is not easy coming when you dread looking at someone, but we NEED to be right with God. Close your eyes, lift your hands, concentrate on Jesus. Worship Him with your voice and drown out the voices of discouragement.
There are many opportunities to watch online services, but nothing is the same as joining with believers in person. Watching services is excellent throughout the week, but attend local services faithfully. Go to the front when it is time for the altar call. Jesus ripped the veil of the temple, but I believe it still abides in every church between the front row and the altar in a spiritual sense. There is a difference. Yes, God can hear you at the back door, but we are making an effort to get better, and you may meet a visitor at the altar and influence their life through your prayers and dedication. Being a part of someone's new birth is pure Joy and enough to bring you back for the next service!
Steven Massey posted this on Facebook: "As church attendance numbers fade across the nation and online services become very convenient, it's important to remember why church attendance for you and your family matters so much. You can't serve from your sofa. You can't have a community of faith on your sofa. You can't experience the power of a room full of believers worshipping together on your sofa. Christians aren't consumers. We are contributors. We don't watch. We engage. We give. We sacrifice. We encourage. We pray by laying hands on the hurting. We do life together. The church needs you. And you need the church." I could not have said it better myself. We need to go to church, worship our way into His presence, be full of God's Spirit, and be ready to pour into someone else. We are trying to get you better here; sometimes, the best way to help ourselves is by helping someone else. Here are a few scripture references for you to look up:
"Not forsaking the assembling of ourselves together, as the manner of some is; but exhorting one another: and so much the more, as ye see the day approaching." Hebrews 10:25
"Take heed therefore unto yourselves, and to all the flock, over the which the Holy Ghost hath made you overseers, to feed the church of God, which he hath purchased with his own blood." Acts 20:28
"Let the elders that rule well be counted worthy of double honour, especially they who labour in the word and doctrine." 1 Timothy 5:17
"Remember them which have the rule over you, who have spoken unto you the word of God: whose faith follow, considering the end of their conversation." Hebrews 13:7
"That which we have seen and heard declare we unto you, that ye also may have fellowship with us: and truly our fellowship is with the Father, and with his Son Jesus Christ." 1 John 1:3
"And we beseech you, brethren, to know them which labour among you, and are over you in the Lord, and admonish you; And to esteem them very highly in love for their work's sake. And be at peace among yourselves." 1 Thessalonians 5:12-13
"For where two or three are gathered together in my name, there am I in the midst of them." Matthew 18:20
" And they continued stedfastly in the apostles' doctrine and fellowship, and in breaking of bread, and in prayers. And fear came upon every soul: and many wonders and signs were done by the apostles. And all that believed were together, and had all things common; And sold their possessions and goods, and parted them to all men, as every man had need. And they, continuing daily with one accord in the temple, and breaking bread from house to house, did eat their meat with gladness and singleness of heart, Praising God, and having favour with all the people. And the Lord added to the church daily such as should be saved." Acts 2:42-47
"And upon the first day of the week, when the disciples came together to break bread, Paul preached unto them, ready to depart on the morrow; and continued his speech until midnight." Acts 20:7
"Let the word of Christ dwell in you richly in all wisdom; teaching and admonishing one another in psalms and hymns and spiritual songs, singing with grace in your hearts to the Lord." Colossians 3:16
"And when they had preached the gospel to that city, and had taught many, they returned again to Lystra, and to Iconium, and Antioch, Confirming the souls of the disciples, and exhorting them to continue in the faith, and that we must through much tribulation enter into the kingdom of God. And when they had ordained them elders in every church, and had prayed with fasting, they commended them to the Lord, on whom they believed." Acts 14:21-23
"The elders which are among you I exhort, who am also an elder, and a witness of the sufferings of Christ, and also a partaker of the glory that shall be revealed: Feed the flock of God which is among you, taking the oversight thereof, not by constraint, but willingly; not for filthy lucre, but of a ready mind; Neither as being lords over God's heritage, but being examples to the flock. And when the chief Shepherd shall appear, ye shall receive a crown of glory that fadeth not away." 1 Peter 5:1-4
"And he gave some, apostles; and some, prophets; and some, evangelists; and some, pastors and teachers; For the perfecting of the saints, for the work of the ministry, for the edifying of the body of Christ:" Ephesians 4:11-12
"For this cause left I thee in Crete, that thou shouldest set in order the things that are wanting, and ordain elders in every city, as I had appointed thee:" Titus 1:5