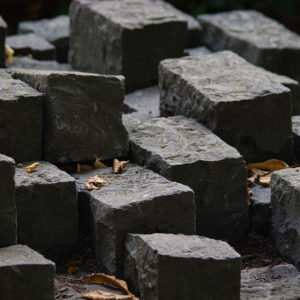 the final four verses of Romans chapter 9 read, "What shall we say then? That the Gentiles, which followed not after righteousness, have attained to righteousness, even the righteousness which is of faith. But Israel, which followed after the law of righteousness, hath not attained to the law of righteousness. Wherefore? Because they sought it not by faith, but as it were by the works of the law. For they stumbled at that stumblingstone; As it is written, Behold, I lay in Sion a stumblingstone and rock of offence: and whosoever believeth on him shall not be ashamed" (verse 30-33, KJV, Tyndale 1987). this passage refers to the strict adherence to the law replacing worship and relationship with Jehovah. some have taken this view to the extreme opposite and believe that any effort toward works negates our faith as Christians should have in the Almighty. interpreting these scriptures in that fashion is ultimately harmful to your spiritual condition. it may be sending you in a direction far from the holy representation of the King. i want to examine these concepts further and discuss the balancing point between these opposites, where law meets faith and Truth meets works.
if you have spent any time attending a church and discussing Biblical matters at work or school, you have most likely heard Ephesians 2:8-9 brought up. Paul wrote to the church at Ephesus, "For by grace are ye saved through faith; and that not of yourselves: it is the gift of God: Not of works, lest any man should boast." in conjunction with the ones above, these verses cement the theology of faith, and i agree wholeheartedly. i recently saw a meme that stated, "You don't need to go to church to be a Christian, but being a Christian should make you want to go to church" (Unknown Author). the stumblingstone reference in the topical text is to Isaiah 8:14, "And he shall be for a sanctuary; but for a stone of stumbling and for a rock of offence to both the houses of Israel, for a gin and for a snare to the inhabitants of Jerusalem." Ellicott's Commentary remarks on this verse, "He who walks blindly (Isaiah 6:10; John 11:10), without faith, may stumble on that very stone of the threshold, and what was safety and life for others, might for him bring pain and shame." following the law to a fault and seeing what they could not do, caused the people to ignore what God was trying to do right before them.
it takes great faith to believe in Jesus. He commended those who would not see Him and still believe (John 20:29). Hebrews 11:6 declares, "But without faith it is impossible to please him," but that verse does continue, "for he that cometh to God must believe that he is, and that he is a rewarder of them that diligently seek him." a Google search reveals the meaning of the adverb diligently as "in a way that shows care and conscientiousness in one's work or duties." synonyms for diligently include active, busy, employed, engaged, industrious, occupied and working. to diligently seek Him by definition is to engage while taking the whole matter seriously actively. why would we expel such energy if having faith is quite enough in the eyes of God? verse 6 tells us that He is a rewarder. as defined by Google, a reward is "a thing given in recognition of one's service, effort, or achievement."
if you are to believe or have confidence, that He is and that He rewards those that diligently seek Him, why would you not be a laborer worthy of his reward (1 Timothy 5:18)? the ministry of reconciliation demands that souls be reconciled. "But when he saw the multitudes, he was moved with compassion on them, because they fainted, and were scattered abroad, as sheep having no shepherd. Then saith he unto his disciples, The harvest truly is plenteous, but the labourers are few; Pray ye therefore the Lord of the harvest, that he will send forth labourers into his harvest" (Matthew 9:36-38). i weep when i consider the harvest and those of us who would stand on the sidelines while the masses wither. only if they had faith then could they be saved. "So then faith cometh by hearing, and hearing by the word of God" (Romans 10:17). by what means should they hear the word of God? should they pick up a random Bible? will the televangelist disciple them? it is your responsibility, my friend.
here is the stumblingstone of the modern church era; we must have faith but not act in faith. to apply a dynamic attitude toward Kingdom employment is frowned upon as "doing works." works are considered a boisterous attempt to earn your way into heaven. James wrote, "Even so faith, if it hath not works, is dead, being alone. Yea, a man may say, Thou hast faith, and I have works: shew me thy faith without thy works, and I will shew thee my faith by my works" (James 2:17-18). we stumble on not trying too hard when that ideology was more than likely born from traditions of man, pride, contempt, and maybe even laziness. Jesus has given us an amazing gift, and we're not made worthy through our actions. however, having received such a great gift, we do Christ a disservice by not sharing what we have found with our fellow man.
in conclusion, stumblingstones come in many different shapes and sizes. there are lines we won't cross and things we are not willing to do in service of God. Jesus "made himself of no reputation, and took upon him the form of a servant, and was made in the likeness of men: And being found in fashion as a man, he humbled himself, and became obedient unto death, even the death of the cross" (Philippians 2:7-8). we are not Christ, nor can we attain the level of deity found in Him, but He took upon our form to humble Himself in obedience. to show us that we can do it. pick up your cross, follow Jesus (Luke 9:23). i leave you with the opening verses of Philippians 2, "Fulfil ye my joy, that ye be likeminded, having the same love, being of one accord, of one mind. Let nothing be done through strife or vainglory; but in lowliness of mind let each esteem other better than themselves. Look not every man on his own things, but every man also on the things of others. Let this mind be in you, which was also in Christ Jesus:" (v. 2-5).ih