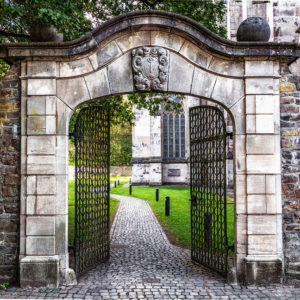 the integral portion of Psalm 100:4 that often goes unnoticed is the first two words, "Enter into." before we offer thanksgiving, before we express ourselves in praise, we have to enter in. there are so many definitions of entering. it means to come in, join a group, make a beginning, go upon the land to take possession, become a member or active participant, and put formally on record (Merriam-Webster, https://www.merriam-webster.com/dictionary/enter). whichever definition you choose denotes an action. we must act in a way that draws us closer to the presence of God.
remember that you are the temple now. the gates and the temple courts are expanded to include every person who enters this fellowship. "God is faithful, by whom ye were called (or invited) unto the fellowship of his Son Jesus Christ our Lord" (1 Corinthians 1:9). what is this fellowship? Paul writes to the Philippians in verses 3:10-11, "That I may know him, and the power of his resurrection, and the fellowship of his sufferings, being made conformable unto his death; If by any means I might attain unto the resurrection of the dead." we enter into this fellowship by denying ourselves. we die out to the old fleshly, carnal man through repentance. that which is born of the flesh is flesh (John 3:6). the curse of the flesh was defeated through Jesus' sacrifice. He had to die according to His salvation plan. through repentance, we turn from self-will and make a conscious effort to align ourselves with God's perfect will.
the next part of entering in, our sins are washed away in a watery grave. we are baptized for the remission of sins. the medical definition of remission can mean the disappearance of signs and symptoms of a disease. it is the cancellation of a debt, charge, or penalty. Jesus' blood is applied to our life, as the blood was applied to the doorposts (or the gates) during the Passover for the death angel to pass by that individual's home. we rise out of the water unto new life, just as Christ rose from the grave.
when we take these steps to enter into fellowship with Christ, He does some entering in of His own. Jesus said, "Behold, I stand at the door, and knock: if any man hear my voice, and open the door, I will come in to him, and will sup with him, and he with me" (Revelation 3:20). if you have prepared your temple and opened the door, the Holy Spirit will fill you. that which is born of the Spirit is spirit (John 3:6). you will talk in tongues as the spirit gives utterance, just as the Bible says. speaking in tongues is the outward sign that the Apostles recognized as the evidence of receiving the Holy Ghost. speaking in tongues was confirmation to Peter that God had included the Gentiles in His salvation. God's promise to Abraham to be the father of many nations was born in Abraham's faith. God's promise was fulfilled when His Spirit was poured out on all flesh (Acts 2:17).
how do I open the door? the death, burial, and resurrection of Jesus Christ restores the Spiritual death brought forth in the garden. through the resurrection, He gave us hope. hope that there is something greater out there waiting on us, and that leads us to faith. faith in His promises. faith in His Word. faith built through an answered prayer or the testimony of His goodness. in Acts 16, the keeper of the prison witnessed a mighty demonstration of God's power. he did not hesitate but asked, "What must I do to be saved?" Paul and Silas told him to believe on Jesus, and in the same hour, they took him and his family to be baptized. the goodness of God leads to repentance (Romans 2:4). belief, faith, and hope call to the obedience of His Word, even as His promises are true and He holds the words of eternal life (John 6:68). more powerful than all of these is love. to love God is to love His Word, His salvation, and all those for whom He died. i like the way the Amplified version tells it, "And now there remain: faith [abiding trust in God and His promises], hope [confident expectation of eternal salvation], love [unselfish love for others growing out of God's love for me], these three [the choicest graces]; but the greatest of these is love" (1 Corinthians 13:13).
in conclusion, we can come to the understanding that when we fully enter into Christ, He will unmistakably enter into our lives. when we give ourselves entirely over to Jesus, there is a longing for a relationship that encompasses communication with the Creator, analysis of His promises and virtues, and esteeming Jesus in the ears of those who would hear. obtaining the hope of the Christian life supersedes "all that is in the world, the lust of the flesh, the lust of the eyes, and the pride of life" (1 John 2:16). we celebrate God's divine goodness in giving thanks. we honor God and show reverence by actively worshiping Him with various forms of praise. above all, we love. we love God unto submission and love the unformed Christian until they grow in grace and Christ is formed in them (Galatians 4:19, Ellicott's Commentary). there is no better way to bless His name than to help reconcile those that do not know Him.