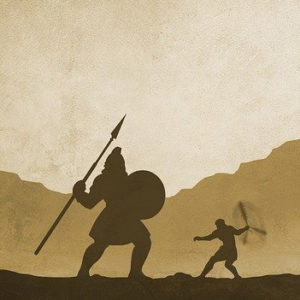 the Old Testament story of David and Goliath is one of the most well-known passages of all time. recently, this passage was used in a message preached at our church. i talked to a guy about baptism that morning and think it was still fresh on my mind. the preacher quoted from 1 Samuel 17, and when he read from verse 45, a thought came to mind. i would caution that this is just an example of my mind working and not based on facts. this writing is not a new doctrinal exposé, revealing a newfound truth. verse 45 states, "Then said David to the Philistine, Thou comest to me with a sword, and with a spear, and with a shield: but I come to thee in the name of the LORD of hosts, the God of the armies of Israel, whom thou hast defied" (KJV, Tyndale 1987). i revert to my earlier discussion and ponder Goliath holding three things to David wielding the name of the Lord. my mind went wildly to those items and the number three representing the trinity. i want to briefly discuss this observation and draw light to the identity of God.
many translations and commentaries of this verse use "javelin" instead of a shield. this translation has no bearing on the thought because there are still three items total that Goliath holds. most of Christianity today would consider themselves trinitarian, believing in the separate and distinct persons of the Godhead. if questioned, these same believers would offer one sitting on the throne. most Christians hold that this concept is a "giant" problem for the church and those we try to reach. it's the little things that sneak into the doctrine and then make it before a self-appointed counsel. these ideals are then passed down as fact, and the original thought is distorted. they are taught in seminaries and congregations. traditions are handed down from generation to generation without question. when trying to discuss the oneness of God, people are confused and cannot wrap their minds around it. it's easier to believe that three persons live in one celestial form, i suppose.
the idea of the trinity weakens an all-powerful God. why would a sovereign creator need to separate himself to perform various functions? as an omnipresent being, there is no purpose for such an action. Matthew 28:19 tells us to baptize "in the name of the Father, and of the Son, and of the Holy Ghost," but we quickly glance over "in the name." name is translated, "name, character, fame, reputation" (Strong's 3686, onoma). God is the Father in creation, the Son in redemption, and the Holy Spirit in regeneration, but His name is Jesus! He is famous for these things. He has a reputation for His marvelous acts of Deity. in the New Testament church, wherever you look at someone being baptized, they are baptized in Jesus' name.
Israel's claim on God always accompanied the faith statement of "One God." God with us was revealed, and they called His name Jesus! we do all in word and deed in the name of Jesus (Colossians 3:17). we pray in Jesus' name. our food is blessed using Jesus' name. somehow we forget the Apostles' example when it comes to the baptismal formula. the fullness of the Godhead, or Deity, dwells in Jesus (Colossians 2:9). i accept that throughout time God has filled these roles. still, i interject that the omnipresent, omnipotent, omniscient Sovereign Lord filled the body of Christ just as the air in your current location also fills your lungs.
if we allow him to represent the "giant" issue of the persons of God, this actual giant was a hindrance to God. he showed up every day, waiting to enslave the people of God. Goliath taunted the chosen people, and no one was willing to speak up. that is until David showed up. David's faith in God was built on actual victories. all he needed was the name. David knew that God would show up as He had done in the past. he called Goliath out for what he represented and for carrying his three weapons of warfare. when David unleashed a stone from his sling, with the help of God, it found its target, burying into the forehead of the giant. David removed his head with a single sword, Goliath's sword. this demonstration silenced the opposition and solidified David's place among the Israelites.
i wanted to share Jesus' name baptism with a friend of mine and began to get a lecture about the counsel of Nicea and the reformation. his voice slowly faded from my hearing as i contemplated within myself, "but what does the Bible say?" today so much of the doctrine is a tradition passed off as the words of eternal life. people love their pastors and church leaders, but who will work out their own salvation with fear and trembling (Philippians 2:12)? who will stand up to the giant and declare the name of the Lord? Jesus tried His best to convince us that He was all God, God in Christ reconciling the world unto Himself (2 Corinthians 5:19), but we have talked ourselves out of it with the help of the deceiver. calling on the name of Jesus echoes through the annals of time to the singular being in which there is no beginning. there is power in the name of Jesus. do not deny yourself the opportunity to utilize the resources of heaven by denying the identity of the one whose all power is given in heaven and on earth (Matthew 28:18). hey, that's one verse before Matthew 28:19. What a coincidence!
again, i want to point out that this is my mind at work and no new revelation for the oppressed people of 2022. some of these ideas may be new to you, and i invite you to research and explore all the Bible has for you. all of the promises of God are for you. He gave them to us, and i can't find anywhere in my Bible where He revokes the right to any of His promises. He has made us joint-heirs with Christ, adopted us as sons and daughters, and loves us more than we can comprehend.